NRF 2020 Vision - Retail's Big Show
NRF 2020 was a meeting of retail's best minds with 40,000 attendees and 800 exhibitors. This year's theme focused on vision and introduced visionary people, ideas, and experiences throughout the show.
---
Hear From Our Customers
Our customers shared their insights in our booth during scheduled speaker sessions. Check out their top quotes.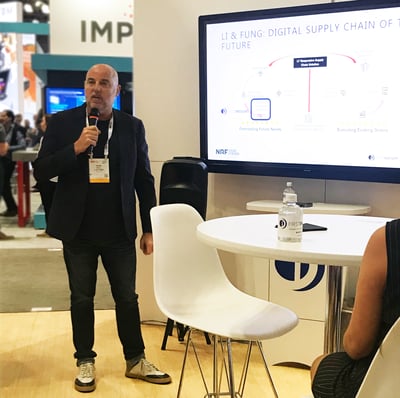 Sean Coxall, President of Supply Chain Solutions, Li & Fung
"The most exciting thing is sending the 3D sample out through the First Insight platform and getting feedback within 48 hours. Within 48 hours we can find out if this is the product that the consumer wants to buy."
"We truly believe that this is going to be the only way to work. You will not to be able to work in the traditional way. You will be too slow. Together we are really creating an exciting new way of doing business."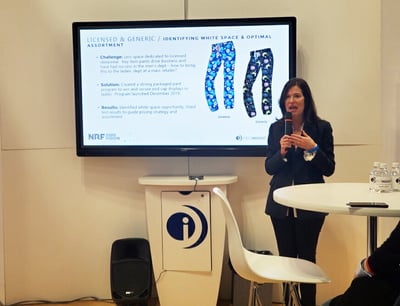 Janice Brown, President, Entertainment Licensing Group, Centric Brands
"By using the First Insight testing platform we were able to say, 'this is what your customer is voting for.' So it really took the guesswork out of what the customer would be selecting."
"Because of the growth in our Entertainment and Licensing business, the rest of Centric Brands now has a subscription to First Insight. Everybody's talking about running a test through First Insight. It's a very big shift for us."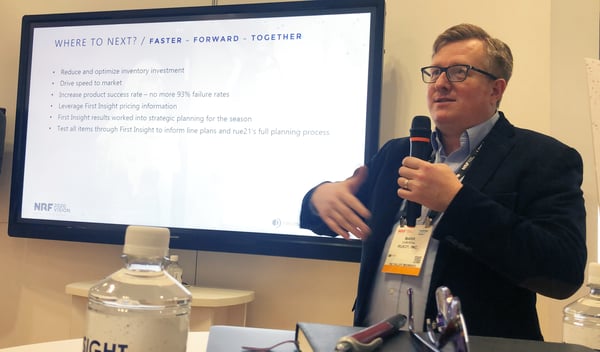 Dr. Mark Chrystal, Chief Analytics Officer, rue21
"We have used First Insight to turn our business around."
"Our markdown inventory is down 35% because we're doing much more testing, we're being very customer-centric, analytics-centric, and we're using this toolset to inform us and listen to our customer and go where our customer is telling us… at the speed of retail."
"We've eliminated in-store testing entirely. We've moved to this digital approach, and it's been a game changer for rue21."
---
Hear From Our Partners
Our partners discussed how they work with First Insight to input the Voice of the Customer into their platforms and processes to improve accuracy and precision in planning and digital product creation.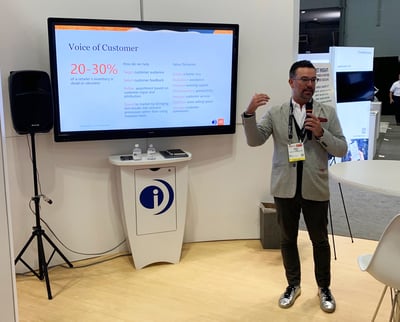 Greg Flinn, Planning and Optimization Product Solutions Manager, Oracle Retail
"Traditionally, plans have always been built on three dimensions: product, time, and location—always looking backwards. Now, by bringing in the Voice of the Customer as the fourth dimension— you can see forward-looking demand rather than simply basing future demand on the past."
"We know that 20 to 30% of a retailer's inventory is dead or obsolete. How do you lower that number? By taking customer input and including it into the assortment plan to provide a better buy."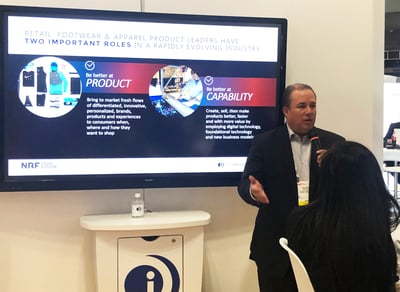 Sergio Martinez, Partner, Kalypso
"We see our clients transforming their end-to-end product development capabilities with technology and process change. PLM provides a system of record to manage product data across the lifecycle, and 3D design tools allow creation and visualization of multiple product designs to shorten time to market. Voice of customer analytics leverage these assets to provide consumer insights to better select, price, and buy new products."
"Integrating these capabilities together provides a powerful platform for brands to bring differentiated products to market faster and cheaper."
---
Retales from the Frontlines Podcast: CEO Greg Petro & Sean Coxall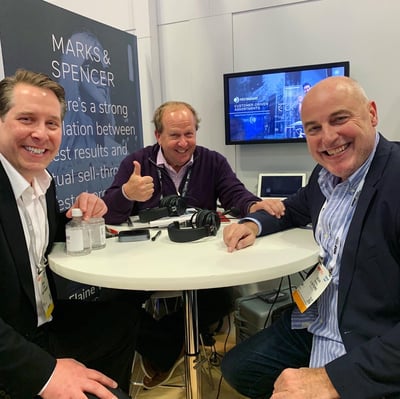 CEO Greg Petro and Sean Coxall, President of Supply Chain solutions at Li & Fung, recorded a podcast from our booth with host Matt Rubel.
The topic focused on First Insight and Li & Fung's new partnership to build the supply chain of the future. The podcast highlighted increasing speed-to-market and improving designs so retailers and brands only produce items customers want to buy.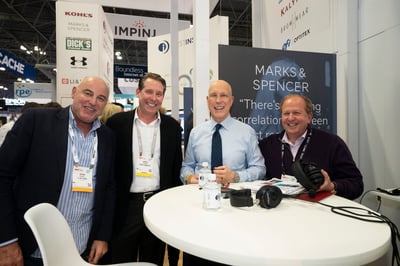 Matt Shay, President of the National Retail Federation and Matt Rubel also recorded a podcast from our booth. They discussed the state of the retail industry, tariffs as a barrier to industry growth, and retailers embracing digital transformation.
---
NRF 2020 Expo Tours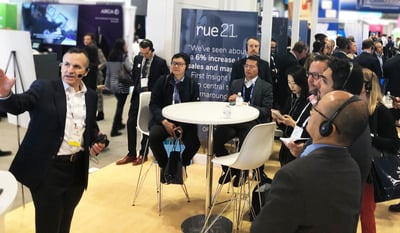 CCO Jim Shea presented for the Artificial Intelligence NRF 2020 Expo Tours that made a stop at our booth. Retailers gathered in our booth to learn about our AI and Machine Learning technology and how it is helping retailers and brands make better product decisions.

The NRF Press and VIP tours also visited the booth. It was a busy place!