Right Product, Right Price, Right Now

The Science of Pricing and Competitive Differentiation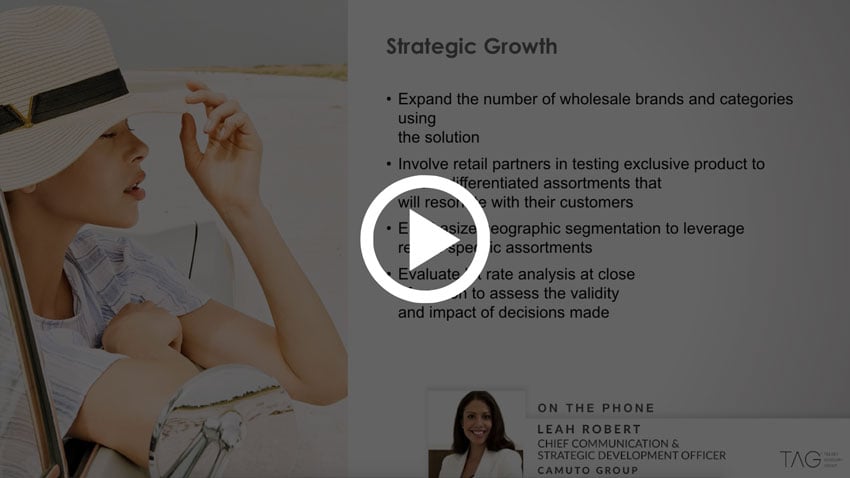 Watch Leah Robert, Chief Communication & Strategic Development Officer for Camuto Group and Greg Petro, CEO of First Insight, as they discuss how the First Insight solution helps Camuto Group bring value to their customers and retail partners.
Highlights from the Presentation
Enhancing Value through Listening to YOur Customers
Leah Robert discusses how Camuto Group uses the First Insight solution to identify trends through social listening, which supports a pricing strategy driven by the customers' perceived value of each product.
Optimizing Product Attributes Through the Power of Analytics
Consumer feedback is a valuable resource for Camuto Group. Leah Robert highlights the benefits of analyzing sentiment data to optimize products pre-market based on input from their shoppers.
Accurately Predicting Product Performance to Drive Sell-Through
Leah Robert shows examples of Camuto Group's accuracy in predicting the performance of their winning products using First Insight. This results in higher margins and fewer markdowns for tested products compared to untested items in their assortments.
Informing Retail Prices through Accurate AUR Predictions
Leah Robert discusses the accuracy of First Insight's ability to predict actual full-lifecycle AURs and its impact on Camuto Group's pricing strategies.
Identifying and Pricing Season Winners
Leah Robert provides an example of key decisions made based on First Insight results. The success of the product resulted in an expanded buy of the original style as well as a continued investment for the 2018 Spring/Summer season.

Changing Price To Maximize Margin and Drive Sell-through
Not all products are winners. But using the Voice of the Customer, Camuto Group identified a product, which would have initially done poorly in the market, as a potential winner. Leah Robert discusses how a change in the pricing of a product can make it one of the best performers of a season.